A documentary that proves men who love cats are more manly than those who don't. Lesson learned: Never judge a book by its cover.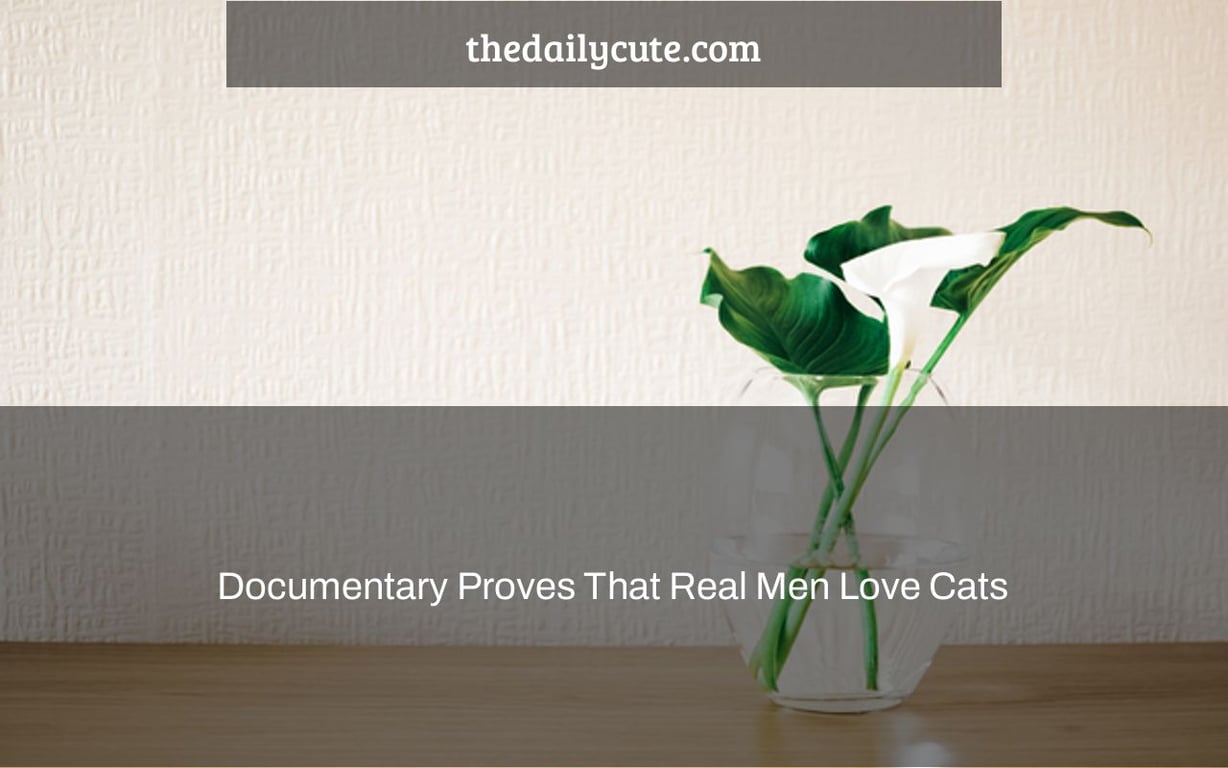 When David Giovanni saw a swarm of people gathered around a wounded cat outside the 233rd Street subway station in New York City, his natural impulse was to scoop the poor kitten up and place it under his shirt for warmth and protection. David, a former construction manager who was homeless at the time and is now facing a rare disease, nursed the cat back to health while living on the streets. Lucky was the name he gave to the tabby.
"This tiny thing just saved my life," David says to the camera in the documentary Cat Daddies, which also features eight other male cat guardians from throughout the country. The intimate friendship that develops between David and Lucky as they seek for a safe haven in the world constitutes the emotional heart of the documentary, directed by Mye Hoang of Los Angeles.
David's search for housing is derailed early on due to shelter policies prohibiting pets. "David made so many sacrifices and lived on the street when he didn't have to because no shelter would let him keep Lucky," Mye adds.
Cats and men
Although David and Lucky's journey is heartbreaking, Mye's initial goal for Cat Daddies was to take a lighter look at the link between masculinity and feline adoption.
"I set out to make it extremely light and entertaining," she says, adding that she came up with the idea for Cat Daddies after seeing a "explosion of men and their cats on social media" in 2018. Mye was also moved by her husband's decision to take in a stray cat while they were dating. Mye and her spouse now look after a clowder of four cats.
Cat Daddies begins with a piece about Nathan Kehn (see left on poster with cat Princess), a Hollywood-based comedy actor known to his 350,000 Instagram followers as Nathan The Cat Lady. During Nathan's spot, he imagines his four lined-up felines as an improvised piano, replete with erect tails to simulate arpeggios, and pretends to play along to classical music.
Tora, a Scottish Straight who travels the United States shotgun with her trucker human David Durst and dresses up in a wardrobe of 150 clothes for meet-and-greet sessions with admirers, is also in the limelight.
On the streets of New York City, David Giovanni lived with his cat, Lucky.
A fragile equilibrium
However, as Mye was gathering film for Cat Daddies, the world's social atmosphere started to shift.
"The epidemic struck halfway through production," she recalls. "Then, in 2020, additional events occurred that pushed me to shift the course and balance the lighter comedy with the drama that occurred that year."
Carefree anecdotes of guys and their kittens are tempered with an emphasis on feline welfare advocacy activities and the therapeutic link between people and cats, adding further dimensions to Cat Daddies.
Flame is a confident feline that lives in a firehouse in South Carolina. Flame, a "small, malnourished cat hunkered down in the grass" discovered meowing behind the station by fire engineer Jordan Lide, now provides a sense of calm respite to essential workers at the firehouse, helping to lower the collective blood pressure of a fire crew working under high-stress conditions.
Cat Daddies travels to Brooklyn's Flatbush area to meet Will Zweigart, the founder of the community-focused Flatbush Cats program that helps stray cat colonies. Flatbush Cats has trained over 500 volunteers in the trap-neuter-return method to far.
"People wouldn't be able to go by if they could see what we're witnessing," Will adds. He goes on to argue for the use of social media to distribute information on feral cats, as well as how to properly socialize "spicy kittens" that hiss at people out of fear. In the end, Will compares feline guards to community caretakers, challenging the idea that caring for cats is only a female responsibility by defining masculinity as a commitment to "defend and care for others."
Updates on David Giovanni and Lucky reveal the intimate bond that develops between cats and the people in their lives as Cat Daddies continues. David is diagnosed with cancer two weeks after he finally finds a place that can accept Lucky. While David seeks medical treatment, a friend called Pamela Darby takes Lucky in. David discusses his desire to reunite with Lucky in the hospital. In emotional terms, the documentary assesses David's prognosis in terms of the time he has left with Lucky, rather than months or years. (At the time of writing, David and Lucky were in supportive housing together.)
"I started this project as an exploration of masculinity, but it quickly became clear that housing and security were common threads," Mye says, reflecting on the film's lasting message. "I saw a similarity between the cats being saved in Brooklyn and David's predicament because I feel that everyone is left to their own devices, whether it's these unfortunate animals on the street or these guys on the street."
"It's up to compassionate citizens to step in and get involved to try to make a difference," Mye adds, encapsulating the heart of Cat Daddies.
Follow the exploits of some of the documentary's cats (and their fathers).
Nathan Kehn is an Instagram influencer and the cat father to Annie, Ginger, Pickles, and Princess.
Flame The Arson Cat was found by Jordan Lide, a fire engineer. @flamethearsoncat
Lucky's guardian, David Giovanni. Although he does not have a social media presence, you may learn more about him at gofundme.com/f/av2jt2-help-fordavid-and-lucky.
@toratravels David Durst is a truck driver that travels with Tora (and her various clothes).
Zulu's human, Jeff Judkins, lives in Boulder Creek and tweets as @zuluzibar.
Will Zweigart is the founder of the Flatbush Cats TNR campaign, which is a non-profit organization. @flatbushcats
Mares, Peter @goalkitty is the person behind the Goal Kitty phenomena.