Today, the world is on a quest for convenience. The demand for fresh food and meals in less time has led to a rise in meal kits that are currently being consumed by millennials who have grown up with them into their prime-time years.
Farmer's Fridge is a company that delivers fresh from the fridge meals to your home. You can choose from options such as steak, chicken, and fish.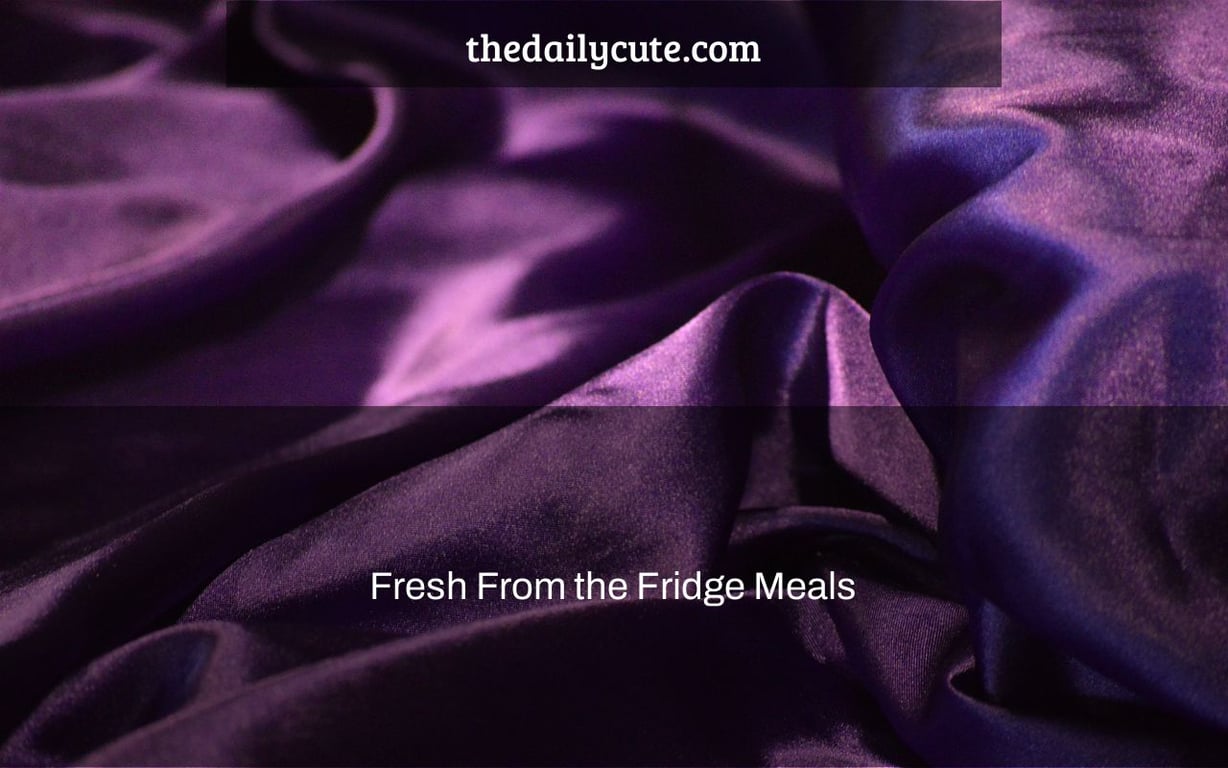 It's the era of "straight from the fridge" meals for your feline companion. These "fridge meals" may be found in refrigerated cases at pet supply shops and certain supermarkets, and they can even be delivered to your house on dry ice. The majority of them use fresh, preservative-free products.
Where did the trend start?
Let's take a trip back to the year 2006. Freshpet, a pioneer in the fresh fridge-food age, established its pet food brand from its offices in Secaucus, New Jersey in that year.
Dr. Aziza Glass, the company's veterinarian, states, "Since 2006, Freshpet has been on a mission to enhance the lives of cats and dogs through the power of fresh, genuine food." "That means using 100 percent natural farm-raised chicken, meat, and fish, as well as fiber-rich garden vegetables and antioxidant-rich fruits, in recipes."
Temperature-controlled vans bring prepared meals swiftly to specially equipped Freshpet refrigerators at retailers. Freshpet also collaborates with retailers to deliver to pet owners directly. Over 50 bagged meals and rolls are available, all of which are free of fillers and preservatives and may be kept in the fridge until ready to serve. Grain-free pate with salmon, delicate chicken and beef tender pieces in 1-pound rolls kept in airtight containers in the refrigerator are just a few of the protein options available to cats.
Dr. Glass continues, "Freshpet's meals are softly prepared, making all 12 necessary amino acids accessible for our dogs – considerably more than the harsher, high-temperature cooking processes needed to manufacture kibble."
Another big competitor in the "fresh-cooked meals" sector is Nom Nom Now, situated in Oakland, California. Dr. Justin Shmalberg, the company's veterinary nutritionist, created all of the recipes, which are grain- and gluten-free. Chicken thigh, breast, and liver, as well as carrots and spinach, and an assortment of critical vitamins, make up the Chicken Cuisine, a feline favorite. All of the materials are sourced from reliable food manufacturers in the United States.
Dr. Shmalberg explains, "As a veterinary nutritionist, I've long advised and designed home-prepared foods for customers' dogs." "The Nom Nom cuisine is made to order and individually portioned in vacuum-sealed pouches, ensuring that the food is fresh when it arrives." The product is also delivered with dry ice."
Nature's Logic debuted in 2006 in Lincoln, Nebraska, with a range of high-quality dry and canned cat and dog meals. Lightly prepared frozen dishes in beef liver, chicken, and lamb tastes are now available for cats from the firm.
These fresh pet food choices are becoming more popular. Since 2014, Freshpet, for example, has had double-digit net sales increase every year.
Getty Images/TAK/TAK/TAK/TAK/TAK/TAK/TA
Before you purchase, give it a try.
Dr. Ernie Ward, founder of the Association for Pet Obesity Prevention and co-author of The Clean Pet Food Revolution, adds, "There's something innately enticing about serving your cat a 'fresh supper.'"
He provides the following checklist to assist you in making the best choice for your cat's nutritional needs:
Verify that the food is AAFCO-approved and nutritionally full and balanced by looking at the label.
Check for any food recalls and read online reviews regarding the firm that makes these meals by going online.
Check to see whether the company's nutritional and health claims are true. It's a bonus to have a board-certified veterinary nutritionist on staff.
Before switching meals, consult your veterinarian about your cat's individual health needs and nutritional requirements.
"I suggest go for it if the fresh food ticks all of those boxes and the pet parent doesn't mind the extra expense," Dr. Ward adds.
Investing in high-quality food
Commercial, refrigerated cat meals, according to Dr. Jean Hofve, a holistic veterinarian in Colorado, are more expensive than bags of kibble or cans of food. Dr. Hofve, the creator of the website littlebigcat.com, says, "It comes down to pay now or pay later." "You will invest in your cat's diet today if you want to save money on veterinary expenditures in the future." Less processed products are easier for your cat to absorb and give greater nutritional value."
The term digestibility is crucial. Cats aren't known for being huge water consumers. Cooking high-quality meals with moisture has two benefits: improved component digestion and the generation of nutritious excrement in the litter box.
"When cleaning up after your pet, you may detect a gut health or nutritional problem for the first time," explains Dr. Tabitha Hookey, a Royal Canin scientific support expert. "Vomiting, diarrhea, a change in appetite, weight loss, or irregular stool quality are all signs of poor gastrointestinal health."
"A high-quality diet should begin with carefully chosen ingredients that are digestible and bioavailable (meaning the nutrients will be well-absorbed and used by the body)," she continues.
First and foremost, put your safety first.
When choosing freshly prepared refrigerated and frozen meals, Dr. Hofve advises individuals to practice basic kitchen cleanliness. If refrigerator food is left out on a kitchen counter for too long and isn't adequately chilled, the pet may get salmonella and other illnesses.
"Make purchasing these goods your final trip and come home as soon as possible to refrigerate them," she advises. "Most, but not all, of these meals are prepared in some way. Don't leave it on the kitchen counter while you take a phone call from your uncle, since the meat may rapidly get infected with germs if left at room temperature."
Working with your veterinarian to add prebiotics, probiotics, and digestive enzymes to your cat's food to maintain a healthy gut is her parting advise.
Keep refrigerated at all times!
Here's a sampling of some of the available fresh, prepared, and refrigerated items. These are available in supermarket and pet stores, as well as by subscription.
Select Fresh Chicken & Beef Grain-Free Gourmet Pate; $3.99/1-pound roll; freshpet.com
$50 for a two-week trial of Nom Nom Chicken Cuisine (with a 20% discount); nomnomnow.com
Nature's Logic Frozen Lightly Cooked Individual 1.5-pound rolls are $12.99 at natureslogic.com.
Watch This Video-
The "farmer's fridge target locations" is a blog about food that can be made in the refrigerator. The author of this blog, shares recipes for meals and snacks that can be made from ingredients found in the refrigerator or freezer. This blog is perfect for those who love to cook but are not quite sure what they're cooking.
Frequently Asked Questions
What meals keep well in the fridge?
A: Apples, tomatoes, carrots and some protein.
Why is there a freshpet shortage?
A: Because freshpet has been in the news a lot recently. This means that people are more likely to try it and buy it. The supply is also low because theyre only produced so many units at a time, and then have to be sold out quickly which results in less being available for purchase.
Is freshpet going out of business?
A: I am unable to answer this question, as the information is unknown.
Related Tags
farmer's fridge near me
farmer's fridge shark tank
farmer's fridge reviews
fresh pet food
fresh pet dog food