December is always a busy month for cats, but this year it's extra-special. Let's check out some of the best events around the country that will make your kitty purr with delight!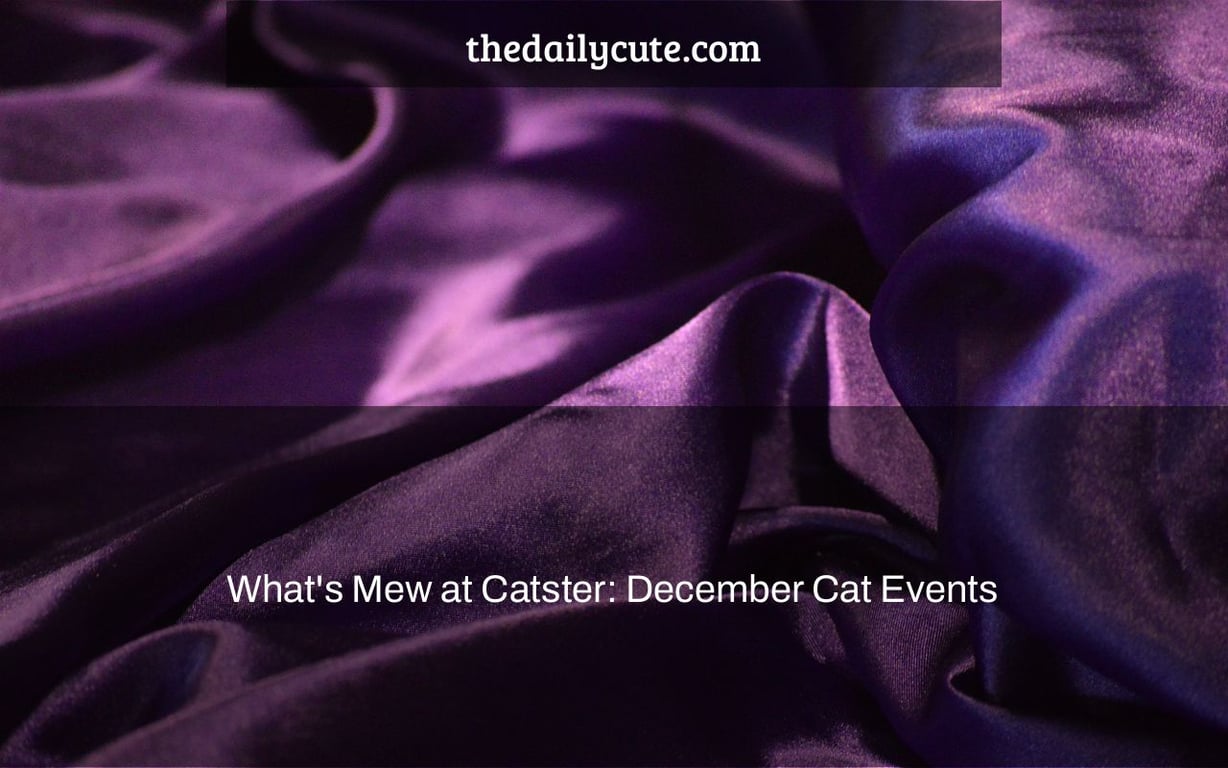 National Cat Lover's Month runs for the whole month.
Blue Buffalo/Helen Woodward Animal Center Home for the Holidays is open till January.
Since its beginning in 1999, Home 4 the Holidays has saved over 18 million pets, making it the greatest festive pet adoption campaign on record. Helen Woodward Animal Center is teaming up with Blue Buffalo for the eighth year for its three-month adoption campaign to encourage people to adopt pets. This Christmas season, choose rescue! Visit animalcenter.org for more information.
At the San Francisco SPCA/Holiday Macy's Windows event, you can meet your new best friend. Photographs courtesy of the San Francisco SPCA.
The 35th San Francisco SPCA/Holiday Macy's Windows will be on display through December.
Join the San Francisco SPCA at Macy's Union Square for the 35th annual Holiday Windows event! Almost the years, this Christmas tradition has aided in the adoption of over 10,000 homeless animals. Donations are also collected to benefit the SF SPCA's year-round lifesaving efforts. Because the pandemic made things difficult last year, the SF SPCS developed unique movies of rescue animals and shelter alumni instead of filling the Christmas displays with available animals. The cameras were up for a total of 6,611 hours and 122,352 views, with 341 cats being adopted! Visit sfspca.org/holiday for more information about this year's event.
4: Reindog Holiday Parade in 2021
The annual Reindog Holiday Parade in St. Joseph, Michigan, promises to be a lot of fun for everyone. The event also celebrates Santa's visit by featuring dressed-up dogs and their owners in a variety of festive attire. Visit stjoetoday.com for additional information.
Jackson and a feline companion. Jackson Galaxy provided the photography.
Jackson Galaxy Webinars, 4-5 p.m.
Two new virtual cat camp programs have been launched by Jackson Galaxy. The first is Raise a Glass: Grief and the Healing Power of Ritual During the Holidays, which will be presented by Cat Camp Counselors Jackson Galaxy and Animal Companion Loss Recovery Specialist Stephanie Rogers on Saturday, Dec. 4 at 11 a.m. ET. The death of an animal friend, often known as a "disenfranchised loss" (one that is not commonly acknowledged and/or commemorated by society), may leave you feeling alone in your mourning, particularly around the holidays. The counselors will provide rituals and activities to commemorate and remember your beloved pet during this difficult time of year during this webinar.
The counselors will return on Sunday, Dec. 5 at 2 p.m. ET with Saving Yourself so You Can Continue to Save Animals: Cumulative Grief in Animal Service. Those who work with animals as rescues, shelter personnel, animal control officers, or veterinarians are well aware that their job will be fraught with loss from the outset. These losses often result in "cumulative grieving," a build-up of unresolved sadness over time. The counselors encourage you to attend a safe place of support and knowledge aimed at assisting you in recognizing and integrating the sorrow that comes with working with animals.
Each lecture costs $10 to attend. Visit catcamp.com for additional information and to register.
In Mesa, Arizona, there is a cat show. Albuquerque Photography / Getty Images .
It's Feline a Lot Like Christmas Cat Show, 11-12 p.m.
This event, hosted by Phoenix Feline Fanciers and held at Mesa Convention Center, is one of the top ten CFA exhibits in the world, with up to 350 pedigreed cats, kittens, and household pets on display. Visitors will have lots of opportunity to observe the judges assess the cats and meet the breeders and exhibitors, as well as purchase feline-related goods. All about Animals Rescue will also have cats available for adoption. The colorful Christmas cage decoration and cat costume competitions are also available to visitors! Visit phxfeline.com for more information.
Watch This Video-